About Us
ABOUT US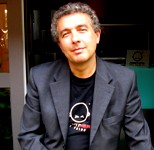 CREATHEAD is a community of thousands of creativity professionals certified by its tens of thousands of visits (See
CREATIVITY CHART
). Young people and the not so young who have made creativity their profession, and in some cases even their lives.
CREATHEAD is born from the intuition of Dario Preda, manager of
Agenzia Brand
. It is not really an agency, but instead opens up to other agencies, studios and consultants in order to aid whoever requires any service from the world of creativity and shares our objectives.

A SHOWCASE FOR THE CREATIVE

CREATHEAD is a community that offers each creative their own space to become visible for free thanks to the
CREATIVITY SHOWCASE
. A personal window in which each single operator can talk about him/herself, debate, and most of all display their own works and their best ideas to firms, agencies, operators and other colleagues. A tool for finding collaborators and collaborations.
Click here to register
.
CREATHEAD IS AN OPPORTUNITY FOR CREATIVES TO EARN MONEY AND BECOME VISIBLE

Thanks to the
CONTESTS
it organises and that other agencies, operators, colleagues can also provide, CREATHEAD offers the possibility of working on high profile projects, for companies (
ALPHABET BMW
,
OKI
,
BOSCH
,
MARS
,
PSION
,
NO LIMITS
, etc) or corporations that entrust the community with their briefings to be carried out for important campaigns. An experience, but also a possibility to earn money and gain large-scale visibility for the creators of the most interesting works.
A SHOWCASE FOR AGENCIES AND PROFESSIONALS

CREATHEAD is the community that guarantees studios and all organisations that offer creativity services the possibility of preparing their own showcase for free. An incredible opportunity to become more visible at zero cost thanks to which every agency will be able to display their own productions, highlighting their professionalism, and thus multiplying contacts with future clients. A concrete possibility of exchange with colleagues and creativity operators, thus nurturing new collaborations and improving the organisation.
CREATHEAD, AN OPPORTUNITY TO EARN MONEY
CREATHEAD offers a percentage profit to all those registered who propose services with a fee . The sector operators may also earn money by proposing to their own clients the organisation of simple contests and competitions, knowing moreover that these will be forwarded to thousands of operators in the sector.
CREATHEAD is a platform available to the world of communications and creativity in general to be offered to companies, corporations, associations, municipalities, provinces, regions, ministries, local offices, etc.
CREATHEAD IS AN OPPORTUNITY FOR MUNICIPALITIES, PUBLIC AND PRIVATE BODIES, ASSOCIATIONS.
CREATHEAD offers public bodies and administrations a free tool (for the services without fee) by means of which they can promote Creativity Contests and Competitions. A platform available to the whole community for communications, design, photography, etc. initiatives. Write to
[email protected]
for information.

CREATHEAD IS AN EXCELLENT OPPORTUNITY FOR COMPANIES


Sometimes ones wants to change, see new ideas, search the horizon, but without losing valuable collaborators or changing the agency or consultant that knows everything about your firm. Submitting an idea or a briefing to CREATHEAD means daring to look for new challenges without renouncing to years of work together. The idea passes from one mind to the other, it is discussed, shown to the customer. The best ideas are discussed with those who have created them, but they can be put into action and placed on the market scene by the customer's own trusted organisation.